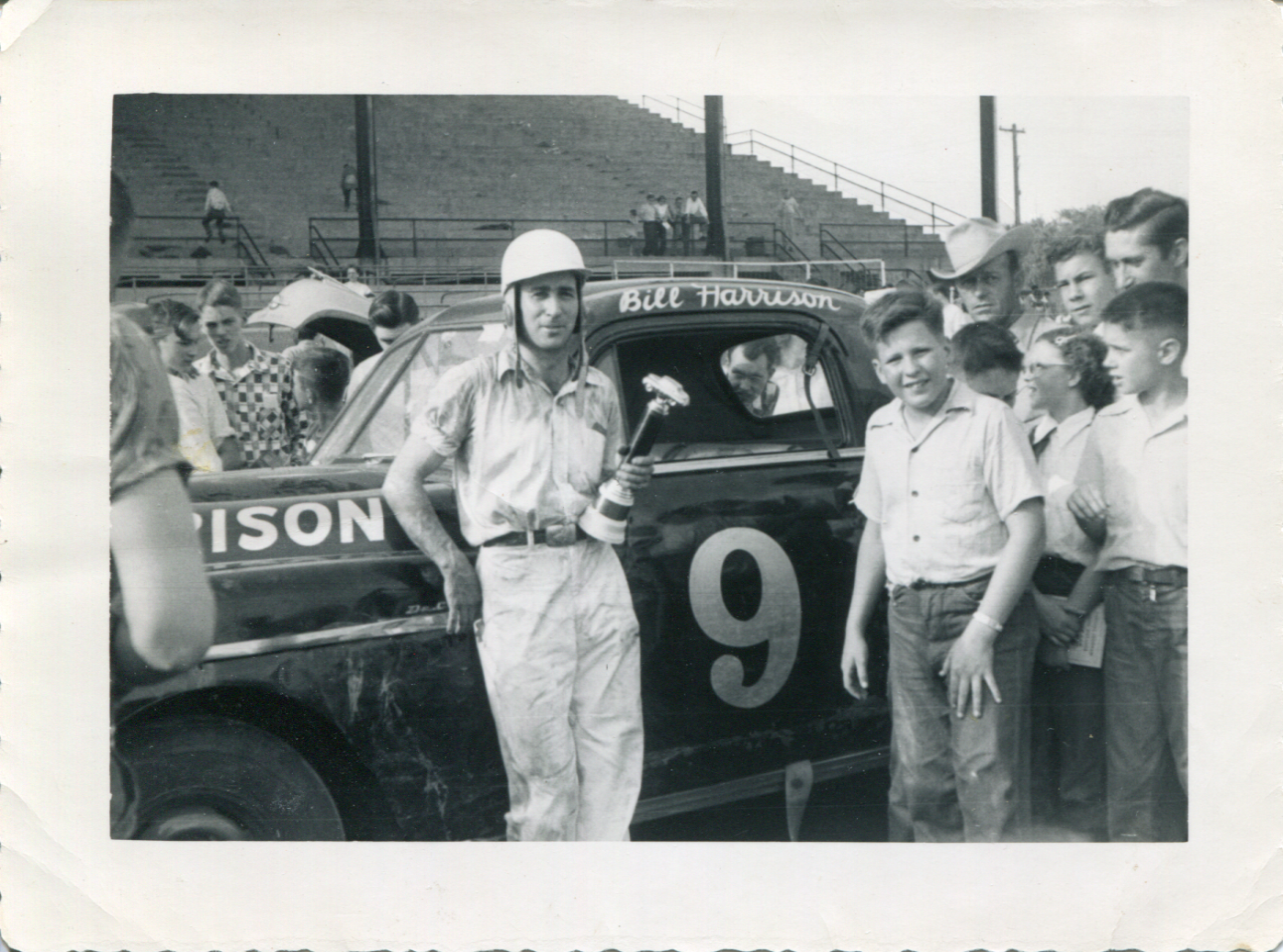 This is too good not to share here.  We all have our heroes – one of mine was my Granddad, Wild Bill Harrison.  He earned the name Wild Bill, as you'll see in this post.  He was a successful racer, polo player, horseman, and serial entrepreneur.  He was a car guy from the get-go (wonder where I get it?), and one of those salt-of-the-earth men that others look up to.  One man who looked up to him was a guy named Frank Trower, who met him when they both raced stock cars in the Forties.
Frank was a family friend; I knew him fairly well.  In 1990, he was a member of the Toastmasters in Arizona.  He wrote a speech about my grandfather, and sent the manuscript to my Grandmother.  Grandmother saved it and I ended up with it before she passed.  I read it numerous times, and saved it in my filing cabinet.  I was going through my files a few days ago and found it.  Rather than scanning it and using OCR to parse it into a Word document, I retyped it so that I could really internalize the words on the page.  It explains part of why Granddad was an inspiration to me, to my dad, and to many others, and I decided to post it here for posterity.  I hope you enjoy it.
"A MAN CALLED BILL"
Presented by Frank Trower to the Toastmasters in 1990
The first time that I saw Bill was at a race at the Kansas State Fairgrounds in Hutchinson, KS, in the spring of 1949.  I was one of the pit crew of a friend of mine that had raced that day.  My friend had a heating problem with his car all during the 100 mile race so he spent a lot of time in the pits.  After the race as we were loading the car getting ready to leave, an energetic man of medium stature came rushing up to my friend and asked, "What happened to you, Glen?"  Since then I have realized that wasn't idle conversation, Bill really was interested in what happened to Glen.
I have also found out that he was always in a hurry.  When you walked anywhere with him, he walked, you ran.  Anyway, when he left, I asked Glen who he was and he said that was Bill Harrison, he runs a garage on Kansas Avenue in North Topeka.
The next time that I saw Bill was a few weeks later at a race in Cedar Rapids, Iowa.  I was with Glen again as one of his pit crew and Bill was there with a new 1949 Lincoln.  About halfway through this 100 mile race I looked toward the 4th turn at the right instant to see Bill's new Lincoln on its nose as it was flipping end over end.  Bill climbed out unhurt.  He left his wife and young son with the wrecked car in Cedar Rapids and rode back to Topeka, KS, with us.
In those days, which were the infancy of "Late Model Stock Car Racing," we raced our "family" cars, so we drove the cars to and from the races which were usually 200 to 500 miles from home.  Anyway, it was 420 miles from Cedar Rapids to Topeka and as soon as we got there, Bill climbed into his wrecker, drove back to Cedar Rapids, got his car, wife and son, and drove back to Topeka before going to bed and resting.
I realized that here was a man with great fortitude and perseverance.  At the next race, the announcer nicknamed him "Wild Bill," a name that stuck with him for several years.
The racing bug had bitten me hard, so that fall I bought a 1949 Mercury and when the 1950 season opened I was ready to start my racing career.  I soon found out that Bill was a fierce competitor, like the time that his own race car ran over him.  It happened during a 100 mile race when a shifting linkage came off the transmission.  He got under the car, with the engine running, shoved the linkage back into place, and with it being an automatic transmission and the selector lever in the drive position the car took off, ran over him with the back wheel, and continued down the track until it stopped against the fence.  Bill got in it and finished the race.  At the insistence of the promoter he went to the hospital where X-rays showed he had three fractured ribs.
I also found him quick to help a person in trouble.  I have seen him loan tools and parts to a competitor so he could get in a race. I raced against him in 1950 and 1951.  In 1952 I didn't have a car to race so Bill offered me the opportunity to race a car for him.  I drove the car all season, about 40 races.  In this close relationship my respect for him as a person grew.  He was a man of his word, honest, considerate, and not two faced, but most of all he made a person feel as if they were important.
I know of many times in which he could have blamed someone else for his misfortune, but didn't.  For instance, the time in 1956 he was going to a race and one of the men with him was driving his 1956 Chrysler 300 and towing his 1956 Ford Convertible race car.  By now, we were towing our race cars and when you traveled with Bill, you had to take your turn at driving on the road.  Even his wife Grace had to take her turn which caused a lot of "second looks" from people.  Anyway, Bill was asleep in the back seat and it was raining.  The man driving lost control and rolled both cars.  No one was hurt.  Bill got the cars upright and determined that the damage wouldn't prohibit the cars from being driven.  He put oil in the Chrysler's engine to replace what had drained out and drove the car home, towing the Ford.  Bill did not attempt to blame the man driving for wrecking his cars.  In fact, when someone even hinted that the man errored in some way, Bill was quick to speak in his defense.
The point I want to make is that when something went wrong, Bill didn't stand around wringing his hands wondering, "What am I going to do?"
Another instance of this was when a bearing started knocking in the engine of that Lincoln during a race.  He pulled out of the race and started driving the Lincoln home but the bearing got so noisy that he was afraid it was going to ruin the engine.  So he pulled off to the side of the road, removed the rod and piston from the engine, and drove the car on home.
These instances and others showed me that there are ways around pitfalls.  By nature I am rather "laid back" and there have been times in my life that I needed an inspiration, and I have stopped and asked, "What would Bill do in this predicament?", like the time I was coming back from a race in San Francisco, about halfway between Barstow and Needles, CA, in the middle of the Mojave Desert.  We came to an accident where a car and a trailer house were turned over completely blocking the highway.  It was in a cut through a hill about 10 feet high.  I could see us stranded there for at least a couple of hours until a wrecker could come from "wherever" to clear the highway.  Traffic was backing up and people were milling around the wreckage.  I thought, "What would Bill do?"  Look for a way around!  I saw a possibility, maybe by leaving the tow car and the race car hooked together with the two bar, both cars running and pulling together, we might be able to go off the highway, but you know how treacherous the sand is in the desert and how easy it is to get stuck.  There was one other problem – I had a small wreck in the race in San Francisco and the radiator was ruined on the race car, so it had not water in it.  That meant that we had very little time that we could run the engine before it would overheat and possibly ruin it.  I had the man with me drive the race car and I drove the tow car.  I told him that we had to go "all out," don't let up for anything.  We went off the highway, over the hill, and just barely made it back onto the highway on the other side of the wreck – but we did make it.
There are numerous other instances when I learned a lesson from Bill.  About 15 years ago he had bypass heart surgery and it hardly slowed him down.  Four years ago, he and Grace parked their motorhome at our place for a month and I could hardly keep up with him, and he is in his 70's!
This last Christmas, Grace put a letter in our Christmas card saying that they are planning on driving their motorhome to Alaska and working in an RV Park at Mount McKinley this summer.  They thought they'd better do it before they got too old.
It seems that he and Grace adopted me about 39 years ago.  They have treated me as if I was their son, anytime that we drive our motorhome into their driveway, he has the electric cord out to plug into our motorhome before I get the engine stopped!
Now I know that he makes most people feel as though they are "important," but I like to think of him as a man of his word, helpful to his fellow men, and a true friend.
Written by Frank Trower
February 1990